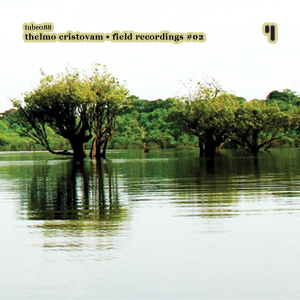 • tube'|088 - Thelmo Cristovam - Field Recordings #02

«Are you ready to be embraced by the Tropical Rainforest? Thanks to the recordings of Brazilian physician mathematic and composer Thelmo Cristovam, we can sonically witness one of the most sensational environments of our planet in the surroundings of Lake Mamori (Manaus, Brazil).
Paying attention to the beauty of the micro and macro sounds of this jungle can be impossible when you are being surrounded by moistly warm air and the "Anopheles Gambiae", a mosquito that is the principal vector of malaria (afflicting more than 500 million people and causes more than 1 million deaths each year).
These field recordings are an aural privilege that not all humans deserve. If you are a nature lover, the layers of heat will be replaced by soothing layers of refreshing eco-sound, and the mosquito bites will become pleasing static sensations. Enjoy a full day of pure connection with a pure environment.»
- Sebastian Alvarez


01
• 20/08/2006 Morning
[12'24'']

02
• 20/08/2006 Night, first place
[25'34'']

03
• 20/08/2006 Night, second place
[2'31'']

04
• 21/08/2006 Afternoon
[34'15'']
Runtime: 74'44''
Field Recordings Series Produced at Mamori Art Lab Workshops.
Pure/raw field recordings made around Mamori lake, Brazilian Amazon Forest, during Francisco Lopéz's workshop "natural and virtual sound ambients: the "real" world as a source of sonic creations" at Malab 2006, organized by Asier Gogortza, Jordi Llorella and Nacho Martí, august 2006.
Thanks to: Juliana Freitas, Lindenberg Munroe, Tulipa Ruiz, Asier Gogortza, Jordi Llorella, Nacho Martí, Gerson, Francisco Lopéz, James Webb, Aernoudt Jacobs, Alex Masana, Raoni, Adilia and Curupira.
Special thanks to: Pedro Leitão and Sebastian Alvarez.
http://www.malab.net/
http://www.monocromatica.com/netlabel/
http://www.monocromatica.com/netlabel/releases/tube088.htm
-----------------------------------------------------------------------------------------------------------------
http://www.monocromatica.com/netlabel/newsletter/newsletter_012_nov2007.html
October 01, 2007

SEPTEMBER 4XT

As promised, here is the 4XT for the month of September:



#01 - tube088 - Thelmo Cristovam - Field Recordings #02 [1101 downloads]


#02 - tube090 - meta:Human - The Dark Ages of Technology [899 downloads]
#03 - tube089 - Clorofila Azul - Revisitado (sem Voz) [832 downloads]
#04 - tube082 - e:4c - Technical Unwanted Signals Vol. 1 [818 downloads]
#05 - tube080 - Post Human Era - Where I'm Going... [516 downloads]
#06 - tube071 - Penca Catalogue - This is Hair Care [420 downloads]
#07 - tube087 - Juan José Calarco - Plano Vertical [415 downloads]
#08 - tube092 - The Jack Bohlen Book Club - Lion & Lamb [390 downloads]
#09 - tube081 - Aitänna77 - Health Needs [356 downloads]
#10 - tube091 - Hugo Paquete - Commutative [317 downloads]

A few surprises here. The first one is #04 which is at the exactly same place as it was two months ago in the July 4XT. Another surprise comes in #06, because it's a release that is already pretty old when it comes to test tube's agenda. And another one comes in #08 because is a very fresh release - just one week old. Almost 400 downloads in a week it's very very good, even for September.


It's also interesting to see a raw field recording release in #01 with more than a thousand downloads, because Thelmo's release is usually filed under the 'non-music' style, a style not extremely popular, even among experimental/electro-acoustic music fans and explorers. I guess this is good news for Thelmo :)



Well, that's about it for now. See you in a month for another 4XT analysis.

Peace,

'|
----------------------------------------------------------------------------------------------------------------
http://www.monocromatica.com/netlabel/releases/tube088.htm
Reviews:
«It is hopeful to hear recordings from such a beautiful place. Thank you Thelmo.»
- Emma Cutler [
EARLabs
] / September 23, 2007
«I think that music is definitely not this... and I ask myself...what is this shit I'm listening? Really, come on people! Any fucking idiot can do this!!! Get real damm it! George.»
- George [
EARLabs
] / September 23, 2007